My first and most significant challenge in my life, was dealing with my crazy head of curls--they came out of nowhere! I was born with thick, dark, straight hair until about age 9. Here's me, at 3, pictured above.
While living in Florida, my hormonal changes began to make my hair frizzy, dry and kinky. My family figured it must have been the humidity, in combination with all the chlorine from the swimming and diving I was doing. My mom took me to all the best salons, but I was left with getting bad haircut after bad haircut, and was teased at school by kids calling me 'Einstein'. It was so sad, but so true. The good news is that this shaped me into the girl I am today without cramping my style!
Throughout my growing pain years of pre adolescents, high school, and college, I experimented with every product out there without much success. My mom felt so bad for me that she was about ready to write to Oprah to enter me into her makeover contest. She was willing to pay anything at that point, to make my hair look good, because she was feeling guilty as to how amazing her hair had been looking! She tried her best to blow dry it out straight, but unfortunately I was left with what looked like a combination of a christmas tree /broom because we didn't have any fancy flat irons or products to help smooth it out back then. I'm still not sure which look was worse--crazy nappy 'Einstein hair', or christmas tree /broom hair?
I spent the next 10 years or so with my hair in a tight bun or pony tail to try and conceal this huge mop! We tried all different types of stylists, but they all made a big deal about how unmanageable it was, and had no idea what to do with me, unless they chemically straightened it--the way they did for ethnic hair textures. I finally gave into it a few times, only to be left with tons of breakage, because my hair wasn't strong enough to hold up against that intensity.
It wasn't until I was 21 years old, that I found Ouidad products--the only cure for the curls!!!
Climate Control Gel then became my new best friend, and is the one product I would take with me to a deserted island! (okay, maybe I'd let me hair naturally dread up so that I could embrace being an island girl, but you get the picture...)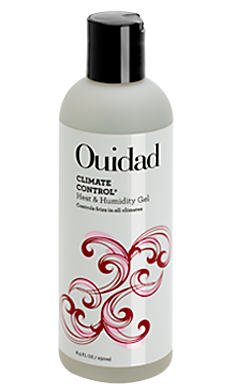 The U.P.S. delivery truck guy became my other best friend, delivering my Ouidad order whenever I needed. He personally gave me his cellphone number in case I ever missed his delivery time, so that I could call him and hunt him down on the streets of Charleston, SC. My product orders were very important; If I didn't have enough product, I couldn't go on--seriously, it was that dramatic. Still, I wore my hair up in a pony tail or half up a lot, because I lacked the styling finesse. I was only dwelling in the 'managing' phase at this point.
Here's a pretty standard college hair shot of me (on the left):
Post college, I dabbled in a couple different career directions for two years before realizing that my whole life was consumed by my hair! Reading about hair and beauty secrets in magazines and online was, and is still, my favorite pastime. I soon became so good at blow drying my own hair straight, that my friends would ask me to style their hair too. Clearly it was time for me to head into the beauty industry, but how? I had never entertained the idea of going to hair school before, and my parents definitely didn't foresee that in my future while they were paying my college tuition!
But, I followed my heart and picked up a pair of shears for the first time, and am now a Ouidad Curly Hair Expert at Ouidad Salon in Santa Monica, CA--go figure! www.ouidad.com caters to all types of waves and curls, making them shiny, lively, manageable and beautiful!
I was given a head full of crazy hair, and can now master the art--literally doing curls in my sleep! And my hair looks pretty amazing, if I do say so myself...see below ;)
Now, go let your natural texture free!
In hair and happiness,
Kate